Left Hand Brewing Welcomes Local, National & International Breweries to Nitro Fest on March 4th at Mission Ballroom
Posted: February 8, 2023
FOR IMMEDIATE RELEASE
Left Hand Brewing Welcomes Local, National & International Breweries to Nitro Fest on March 4th at Mission Ballroom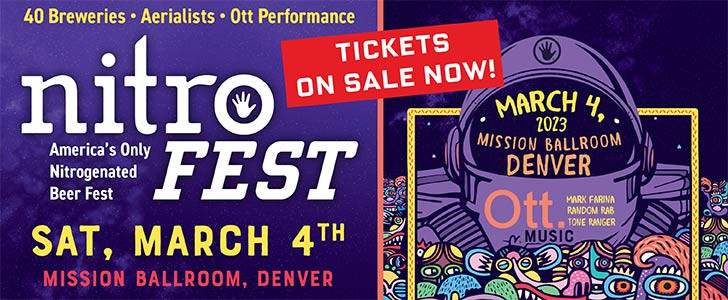 World's biggest celebration of Nitro beer to feature unique brews, aerialists, costume contest & musical performance by Ott.
LONGMONT, Colo., Feb. 7, 2023 – Presented by Left Hand Brewing, Nitro Fest is an out-of-this world, Nitro-exclusive beer festival featuring an invite-only list of acclaimed local, national and international breweries. The biggest international celebration of Nitro beer in the galaxy will touch down at Mission Ballroom, across the plaza from Left Hand Brewing's new Denver location, on March 4 from 4-7:30p.m., followed by a musical performance by world-renowned musician and record producer, Ott.
Left Hand is proud to welcome local, national & international breweries to Nitro Fest including: Barba Brewery (Croatia), Reketye (Hungary), Peñón del Águila (Argentina), Porterhouse (Ireland), Smidjan Brugghus (Iceland), Wicklow Wolf Brewing Company (Ireland), Heist (UK), Maui Brewing, Modern Times, Begyle Brewing, Wren House, Columbus Brewing, Highland Brewing, Commonhouse Ale Works, Hopworks Beer, Surly Brewing Company, Joyride, Bootstrap, Dry Dock, Cerebral, Great Divide, SKA Brewing, Main Stage, 4 Noses, Odd 13, Vicious Cycle, Upslope, Mockery, Wiley Roots, River North, Bristol and Mythmaker
These elite breweries will be bringing special one-off creations and brews that will only be available to festival attendees. Nitro beers are packaged with nitrogen instead of CO2, resulting in a lightly carbonated beer with a creamy texture for a smooth, velvety experience.
Nitro Fest is a themed and costumed affair. Expected dress is Cosmic Masquerade, so guests are encouraged to dress to impress in their finest space and alien garb. Judges will be making their way around Nitro Fest and handpicking festival goers to compete in the evening's costume contest with the chance to win a $100 gift certificate to Left Hand RiNo Drinks & Eats.
Following Nitro Fest, attendees will experience an interstellar musical performance by Ott whose psychedelic vibes will send you floating through time and space, in addition to performances by Mark Farina, Random Rab and Tone Ranger.
Left Hand Brewing would like to think its sponsors for helping bring Nitro Fest 2023 to Denver including: High Plains Bank, Plante Moran, BOK Financial, Airgas, Velonex Technologies, Artisanal Imports, Great Divide Brewing Company, SKA Brewing and Shamrock Foods.
Nitro Fest tickets are on sale now through AXS, the Mission Ballroom Box Office or Left Hand Brewing's Longmont Tasting Room and include General Admission and VIP ticket packages from $85 to $150.
About Left Hand Brewing Company
Left Hand Brewing Company, founded in 1993 in Longmont, Colorado, is one of the original pioneers in craft brewing. From humble homebrewing beginnings to becoming one of the top 50 craft breweries in the U.S., Left Hand has continued to grow and innovate throughout their 29-year history. Famous for their nitro series, Left Hand launched America's original nitro bottle with their flagship Milk Stout Nitro and the first production run of U.S.-made nitro widget cans. Left Hand was honored with the Brewers Association Brewery of the Year Award in 2022, and is proud to be the most awarded and recognized brewery in Colorado with 31 Great American Beer Festival medals, 11 World Beer Cup awards and 9 European Beer Star awards. Their collection of perennial and seasonal beers are available in 45 states, DC and internationally. To learn more, please visit www.lefthandbrewing.com.