A Left Hand Thanksgiving
Posted: November 8, 2023
Gobble Worthy Recipes to Kick Your Holiday Up A Notch
Milk Stout Nitro is good for more than just drinking!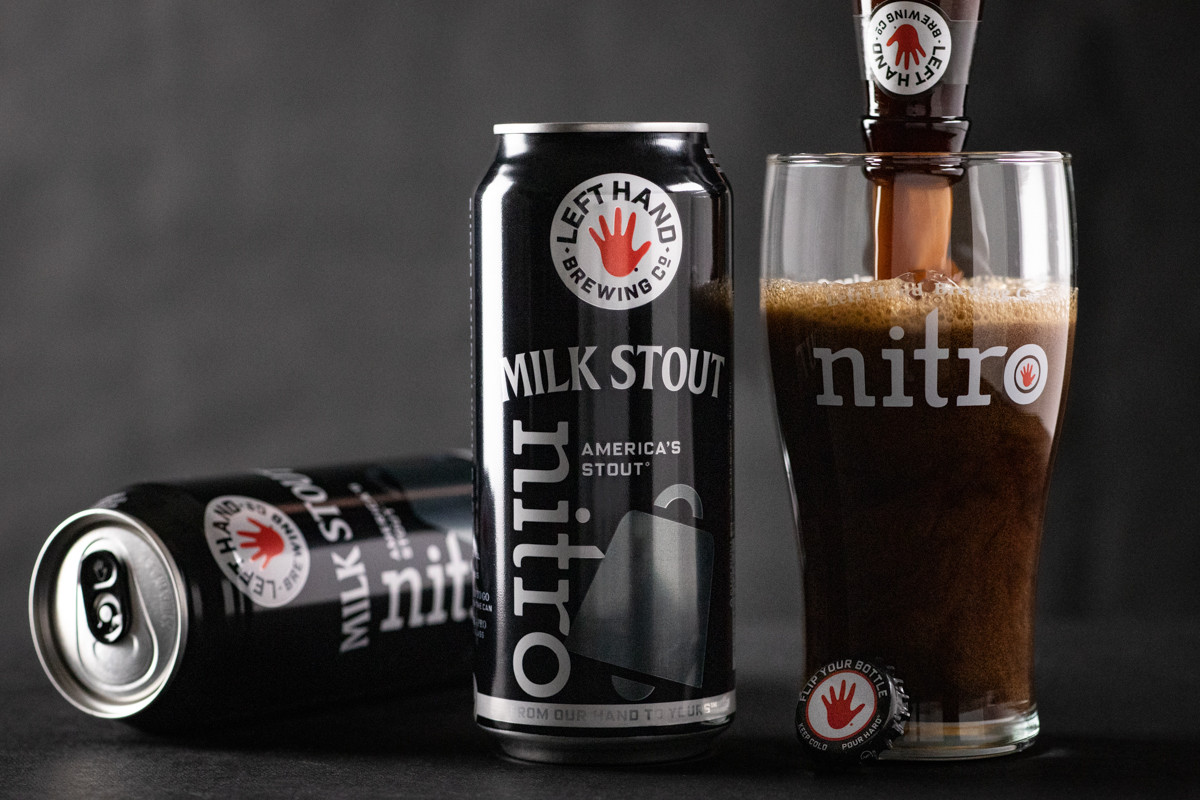 Sides
Crispy Brussels Sprouts with Shallots and Bacon Stout Vinaigrette
Ingredients:
4 cups Brussels sprouts, halved lengthwise
¼ cup shallots, cut into thin strips
3 tbsp. kosher salt
1 tbsp. fresh thyme, chopped
2 tbsp. olive oil
Vinaigrette Ingredients:
1 cup diced bacon, raw
¼ cup balsamic vinegar
¼ cup Left Hand Milk Stout Nitro
¼ cup olive oil
Directions:
Bring two quarts of water to a boil with the salt.
Add Brussels sprouts and cook until sprouts are lightly cooked through, but not soft.
Remove Brussels sprouts from boiling water and "shock" in ice water. Place Brussels sprouts on paper towels to dry.
Preheat oven to 400 degrees.
In a mixing bowl, add Brussels sprouts, 2 tablespoons oil, shallots, and thyme.
Mix to incorporate, and spread in a single layer in a baking sheet.
Place in the oven and bake for 15 minutes.
Check for browning. If brown, remove from oven, otherwise, keep in oven and continue baking until golden brown and delicious.
Saute bacon until crispy in pan over medium heat.
With a slotted spoon, remove bacon and reserve bacon fat/oil.
Place saute pan back on stove over medium heat and add stout and vinegar to deglaze pan. Simmer for two minutes.
Remove from heat and place liquid in food processor or blender. With the motor running, slowly add olive oil, as the liquid will be hot. Taste the vinaigrette and adjust for acidity and salt. If too acidic, add some of the reserved bacon fat. Add diced bacon to vinaigrette.
Place Brussels sprouts on serving plate. Drizzle half of the vinaigrette over the sprouts and reserve the remaining vinaigrette on the side.


Maple Stout Glazed Butternut Squash
Ingredients:
1 small to medium sized butternut squash
3 tbsp. kosher salt
¼ cup maple syrup
2 tbsp. sherry vinegar
½ cup Left Hand Milk Stout Nitro
1 tbsp. chopped rosemary
1 ½ tbsp. olive oil
½ cup toasted pumpkin seeds
1 tsp. cracked black pepper
Directions:
Peel, seed, and dice butternut squash into rough ½ inch cubes. If the diced squash are not perfectly square, this is okay. Use the entire squash.
Place the diced squash in a pot and cover with enough cold water to cover the squash by two inches.
Add 3 tablespoons of kosher salt and place pot on stove over medium high heat.
Cook uncovered until the squash are firm and lightly cooked through, but not soft or mushy.
Drain and place on paper towels to get rid of moisture and steam.
Heat a large saute pan on medium high heat until hot. Add olive oil and swirl to coat bottom of pan.
Add the squash. The pan should sizzle when the squash is added. Stir the squash to prevent burning.
Once the squash begins to brown, add the stout, vinegar, maple syrup, rosemary, and black pepper.
Turn the heat to medium and allow the liquid to reduce while stirring the squash so that they are evenly coated.
Once the liquid begins to thicken, remove the squash with slotted spoon to serving platter. S
poon the thickened liquid around the squash and garnish with pumpkin seeds.
Other Ideas: Creamy mashed potatoes with mushroom milk stout gravy, Sauteed green beans with stout honey-garlic vinaigrette
Entrees
Ancho Chili Rubbed Pork Tenderloin with Fig Milk Stout Sauce
Brine Ingredients:
1 pork tenderloin, silver skin removed
1 12-ounce bottle of Left Hand Milk Stout Nitro
3 ancho chilies
1 ½ quarts water
½ cup kosher salt
½ cup brown sugar
Sauce Ingredients:
1 12-ounce bottle of Left Hand Milk Stout Nitro
10 dried figs, halved
2 cups chicken stock, homemade if possible, if not low sodium and organic
Directions:
Place brine ingredients with exception of pork in a saucepan and heat to dissolve the salt and sugar.
Remove from heat and place brine in container large enough to hold the pork and liquid.
Place in refrigerator and cool to room temperature or below.
Add pork and allow to sit for two hours in the brine.
Preheat oven to 375 degrees.
Remove the pork and ancho chilies from the brine. Pat the pork dry, place chilies (stems removed) in food processor or blender
Open another bottle of Milk Stout, add 1/3 of the beer to the chilies, and puree until smooth.
Drink the rest of the beer.
Rub the chili puree all over the pork.
Place the pork on a roasting rack and roast for 30 minutes.
Remove pork from oven and check temperature. If it is not at 135 degrees, continue cooking, and check every 15 minutes.
While the pork is cooking, add all of the sauce ingredients to a sauce pan, and heat on medium high until it simmers.
Reduce this mixture by approximately 25 percent. Remove from heat and remove figs. Place half of the figs in a food processor or blender with 1 cup of the reduced sauce.
Puree carefully, as the mixture will be hot, and puree until the figs are smooth. Add fig puree to remaining sauce, and heat on low while whisking until the liquid is thick enough to coat the back of a spoon. If the mixture is too thick (meaning it looks more like a puree than a sauce), thin with additional stout.
Add the remaining fig halves and taste the sauce for salt. Adjust seasoning as necessary.
Slice pork tenderloin in thin slices, place on serving platter, and spoon half of the sauce over the pork with fig halves.
Serve remaining sauce on the side.
Same recipe can be used for a boneless turkey breast. The cooking time will be longer and the internal temperature of the turkey should be at 165 degrees.
Dessert:
Pumpkin Chocolate Cheesecake with Left Hand Milk Stout Nitro Fudge Sauce
For the crust:
5 oz. chocolate wafer cookies
2 tbsp. granulated sugar
2-1/2 oz. (5 tbsp.) unsalted butter, melted
For the filling:
1 lb. cream cheese, softened
1 cup granulated sugar
1 cup canned pure pumpkin purée
1/2 tsp. ground cinnamon
1/2 tsp. freshly grated nutmeg
1/4 tsp. ground cloves
1/2 tsp. vanilla paste or pure vanilla extract
2 large eggs
1 large egg yolk
1-1/4 cups plus 1/3 cup heavy cream
3 oz. bittersweet chocolate (60% to 70% cacao), finely chopped (1/2 cup plus 2 Tbs.)
For the sauce:
3 tbsp. butter
½ cup Left Hand Milk Stout Nitro
2 tbsp. corn syrup
1 cup dark chocolate chips
To make the crust:
Position a rack in the center of the oven and heat the oven to 350°F
In a food processor, pulse the cookies and sugar until finely ground. Add the butter and pulse until evenly moistened.
Using your fingers, press the crumb mixture into the base and partway up the sides of a 9-inch springform pan.
Use a flat-bottomed, straight-sided glass to further press and smooth the bottom and nudge the crumbs halfway up the sides.
Bake until firm, 8 to 10 minutes.
Transfer to a rack to cool. Position the oven rack in the bottom third of the oven and leave the oven on.
When the pan is cool, wrap the bottom and sides with 2 overlapping 18-inch squares of heavy-duty aluminum foil and set in a large baking pan.
To Fill and Bake The Cake
In a stand mixer fitted with the paddle attachment, beat the cream cheese on medium speed until smooth, about 1 minute.
Add the sugar and beat until combined.
Mix in the pumpkin, cinnamon, nutmeg, cloves, and vanilla until smooth.
Mix in the eggs, egg yolk, and 1-1/4 cups of the cream just until well combined.
Set aside. Heat the remaining 1/3 cup cream in a small saucepan over medium heat to just below a boil; remove from the heat.
Add the chocolate and let sit for 2 minutes.
Whisk until smooth and then whisk in 1 cup of the pumpkin batter.
Pour the remaining pumpkin batter into the prepared crust.
Drop 2-tablespoon dollops of the chocolate batter over the pumpkin batter.
Work in one quadrant and use a wooden skewer or toothpick to continuously "write" capital cursive L's, being careful not to go too deep and scrape the crust.
Turn the pan to work in the next quadrant and continue swirling and turning until all quadrants are done.
Pour 1 inch of boiling water into the baking pan.
Bake until only the center of the cake jiggles when nudged, 1 hour 15 minutes to 1 hour 25 minutes.
Turn the heat off but leave the cake in the oven with the door ajar for another 45 minutes.
Remove from the water bath and foil and run a thin, sharp knife around the edge of the cake.
Cool completely on a rack. Cover the pan with plastic wrap (without letting it touch the cake) and chill for at least 8 and up to 24 hours
To make the fudge sauce:
Add the butter, 1/2 cup stout and corn syrup to a sauce pan.
Cook over medium high heat until butter has melted and the mixture has just started to boil.
Turn off heat and stir in 1 cup chocolate chips until completely melted.
Allow to cool slightly before using.
Happy Thanksgiving, Lefties!