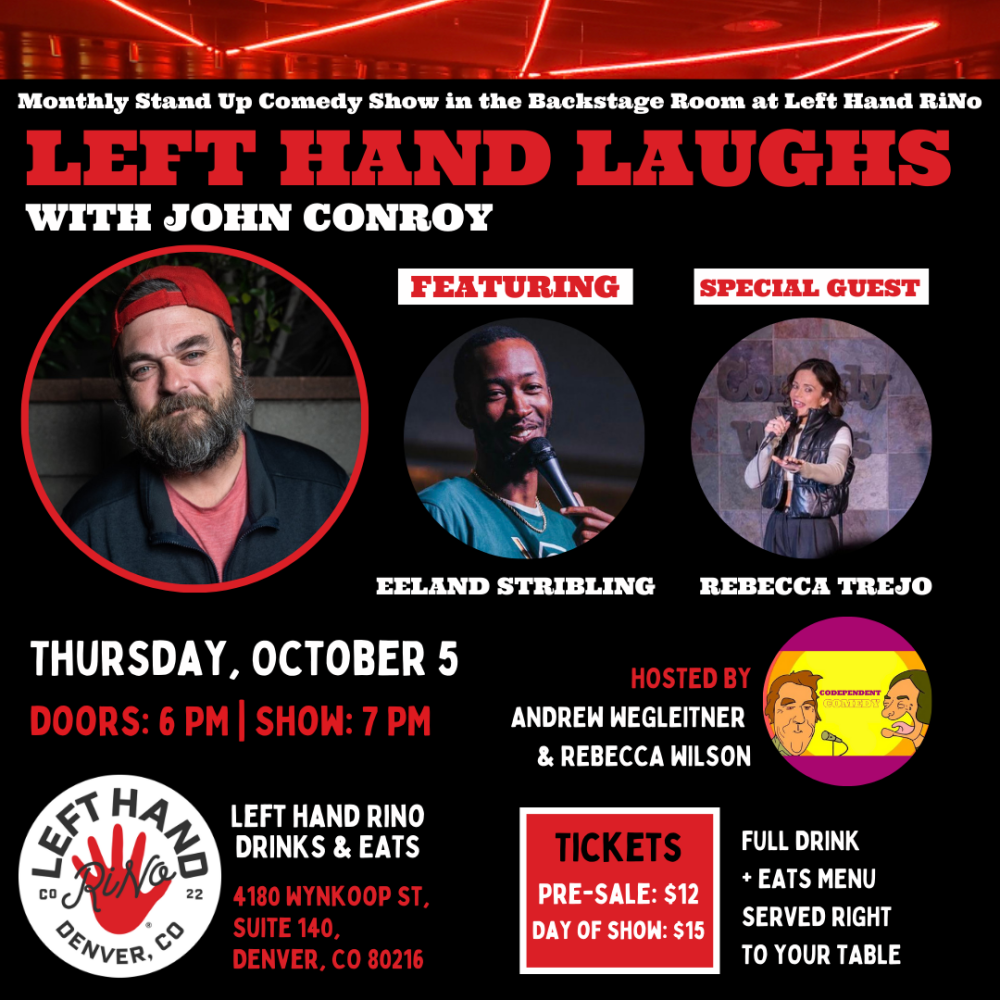 Left Hand Laughs in RiNo
October 5th | 7:00pm-9:30pm MT
October 5th | 7pm-9:30pm MT
Left Hand RiNo
4180 Wynkoop Street
Denver, CO 80216
Enjoy an evening of standup comedy, presented by Codependent Comedy, while indulging in award-winning Left Hand craft beer, signature cocktails & dinner served right to your table! October's show features LA headliner John Conroy.
Doors: 6PM | Show: 7PM | $12 in advance, $15 day of show
HEADLINER: John Conroy
John Conroy brings an everyman's attitude to smart, sharply written material that runs the gamut from shrewd observations to social satire. Shortly after moving to Minnesota in 2008 his peers voted him Best New Comic in the Twin Cities, and the following year he took the top prize in the Funniest Person in the Twin Cities Contest. Over the next two years he made a rapid transition from opener to headliner, playing hundreds of shows each year and touring the top clubs throughout the midwest and East Coast. Conroy is a jovial iconoclast whose good-humored but aggressive act makes a lasting impression.
FEATURE: Eeland Stribling
Eeland Stribling is your aunty's favorite stand-up comedian.He's a wildlife biologist and educator while also touring all over the country with his comedy. He's the creator and owner of Comedians On the Fly. He's rarely in a great mood and he can't wait to tell you about why. He promises you'll laugh. What happens when you combine biology, comedy and and being grumpy? Come see!
SPECIAL GUEST: Rebecca Trejo
Rebeca Trejo is a Denver-based standup comedian with a style once described by Josh Blue as "slam poetry with punchlines."
Born in Venezuela, raised in Puerto Rico, Rebeca migrated to the mainland in 2014 to escape both communism and colonialism, so naturally she fled to…Louisiana.
While living in New Orleans, Rebeca worked as a journalist as she pursued her dream of becoming a motivational speaker. She'd inspire others with her story of overcoming great odds! She'd change the world! But COVID changed the world first, and Rebeca had to quarantine with her two children full-time.
During isolation, she realized that since everything was a joke anyways, she might as well tell jokes too. And since you actually have to become a better person to motivate others, Rebeca settled comfortably into being "average," and now changes the world by connecting with the real sad people heckling her at the bars.
With an infectiously positive, playful energy, Rebeca's comedy covers the realities of being an immigrant parent in America, her Latina identity, and grappling with the fact that we really just are humans paying bills in a flying rock.
When she's not keeping her kids from choking on chalk, Rebeca co-produces a stand-up showcase called The Matriarchy.
HOSTS: Rebecca Wilson & Andrew Wegleitner of Codependent Comedy
Rebecca Wilson is a stand up comic and actor from Denver, CO who was born and raised in Atlanta, GA. Her southern charm mixed with her dry, quick wit creates an engaging act focusing on her southern Catholic upbringing, pop culture, family dynamics and the absurdities within human relationships. She has opened for Pauly Shore, was a finalist in the MN House of Comedy 2021 contest and performed at Madison Comedy Week 2022. She is the co-producer of Codependent Comedy producing shows for Left Hand Brewing, Battery 621 and Your Mom's House, Denver.
Andrew Wegleitner has been killing rooms, headlining across the country, and producing high quality comedy showcases in cities like Denver, Minneapolis, and Madison for years. When he began doing stand up, his destructive booze habit prevented him from writing anything decent or looking professional on stage. Now 11 years without a drink he is making a name for himself. He's worked with Louie Anderson,Theo Vonn, and Todd Glass, placed 2nd in The Funniest Person in The Twin Cities Contest, appeared on the KQ Morning Radio Show, and participated in the 10,000 Laughs and Madison Comedy Weeks Festivals. He currently hosts two thriving monthly shows, "Tight 3's at Your Mom's House," and "Left Hand Laughs" at Left Hand RiNo, as a part of his production team, "Codependent Comedy." His act combines honest, real life, personal experiences with silly one liners and crazy antics. Book him. Let's go!
LOCATION & PARKING: Left Hand RiNo is located in the North Wynkoop development right next to Mission Ballroom. Parking is free in the paved lot just south of the restaurant, ignore the pay station. It is only enforced during Mission Ballroom show nights. There is street parking available on Wynkoop St close to the development as well. Alternate transportation: The Light Rail Station at 38th & Blake or ride share services.
REFUNDS: No refunds. All sales final